Eye Clinic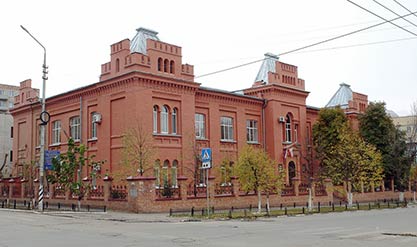 The Eye Clinic of Saratov State Medical University named after V.I. Razumovsky is a specialized fully-equipped ophthalmology facility with highly-qualified medical staff committed to providing free specialized and high-tech patient-centered medical help to its patients in order to prevent, diagnose, and treat even the most complex eye conditions.
The Eye Clinic includes many centers and departments: a diagnostic center with an emergency department, department of laser microsurgery, functional diagnostics units, a children's eye care center, a surgery unit, and centers for treatment of myopia, glaucoma, and vascular anomalies. The diagnostic center is equipped with latest equipment that meets the highest standards of quality and safety.
The diagnostics center's functional diagnostic units use modern techniques to provide expert analysis and diagnosis of ophthalmic pathology.
Comprehensive electrophysiology studies conducted here give information on the functional status of optic nerve analyzer. Modern computer diagnostic electrophysiology system RolandConcalt allows to administer all the tests approved by the International Society for Clinical Electrophysiology of Vision (ISCEV). Here, medical staff conducts three-dimensional scanning of the eyeball and the eye orbit, Doppler color flow mapping of blood flow in the eyeball and eye orbit blood vessels (the central retinal artery and short posterior ciliary arteries), Confocal Laser Scanning Microscopy of the retina and optic nerve, optical coherence tomography and fluorescein angiography of the retina, intraocular lens power calculation, visual field tests, automatic refractometry, and tonography. Spectralis HRA+OCT allows to simultaneously conduct optical coherence tomography and angiography of retinal vessels.
The Eye Clinic provides high-tech ophthalmologic help and surgical treatment to patients with cataracts and retinal diseases such as retinal detachment, proliferative diabetic retinopathy, and macular degeneration. Surgeries are equipped with the newest ophthalmic surgery microscopes. The Eye Clinic administers ultrasonic phacoemulsification cataract surgeries with Infini ® Visual System (Alcon, United States), D.O.R.C. Associate Dual® ophthalmic system (DORC, Netherlands), and Stellaris Visual Enhancement System (Bausch+Lomb, United States).
Eye Emergency Services at the Eye Clinic are available 24 hours a day to handle eye emergencies and trauma. Using modern microsurgical techniques, physicians and nurses specifically trained to treat eye injuries provide initial and delayed surgical debridement. Sophisticated and specialized diagnostic services carried out on modern high-precision computer equipment allow for better treatment of eye injuries. Surgeons at the Eye Clinic also specialize in eyelid and orbital surgeries.
The Children's Ophthalmology Department is the only ophthalmology department in Saratov Region providing eye care to children with congenital cataracts, glaucoma, strabismus, dermoid cysts, and dacryocystitis. A specialized glaucoma center, equipped with modern diagnostic equipment, offers comprehensive glaucoma care and tests that help to detect glaucoma early enough to prevent blindness. The Children's Ophthalmology Department provides medical treatment (with antihypertensive medication), laser therapies, and microsurgical procedures to treat glaucoma.
The Clinic has a modern and fully equipped laser center, performs laser vision correction procedures (laser trabeculoplasty, laser iridectomy, and laser coagulation of ocular tissues). The Eye Clinic performs LASIK vision correction procedures, the most effective method for correcting or improving vision of patients with refractive errors, utilizing AMARIS (SCHWIND) laser. Being one of the most powerful excimer lasers, the AMARIS laser system is able to achieve outstanding clinical results for vision correction, compound and irregular astigmatism correction, and other complex ophthalmic pathologies, and guarantees total safety and increased patient comfort.
The Eye Clinic serves as the teaching hospital for the Department of Eye Diseases of Saratov State Medical University. The Department provides training, education and research opportunities to medical students, residents, fellows, and ophthalmic specialists from Saratov and other cities of Russia. The Department is actively developing new ophthalmic instruments and equipment that can be used to diagnose and treat optic nerve disorders, cyclospasm, amblyopia, and vascular eye diseases. The Department's teaching staff has earned recognition in Russia and abroad for developing ophthalmic medical devices.
Element is not found